Eye on the prize
Bruce Van Ness was officiating a volleyball game when he felt shoulder pain and weakness.
The 71-year-old tried to shake it off. He'd rest after the game; no big concern. He was just coming off a bout of bronchitis coupled with the excitement of a recent move to Pennsylvania to be near family and his beloved Penn State athletics. It would pass.
It didn't. The next day he still felt unwell, his shoulder ached and he asked his wife Bev to drive him to the emergency room. Bruce never complained, so Bev rushed him there. Doctors diagnosed an orthopedic issue and told him to visit a specialist on Monday.
Bruce did and was prescribed steroids. By Tuesday, he returned to the ER with more intense symptoms.
After multiple tests, doctors diagnosed Bruce with Guillain-Barré syndrome, a rare neurological disorder causing the body's immune system to attack its nervous system. The couple's adult sons, Peter and Jake, came to help.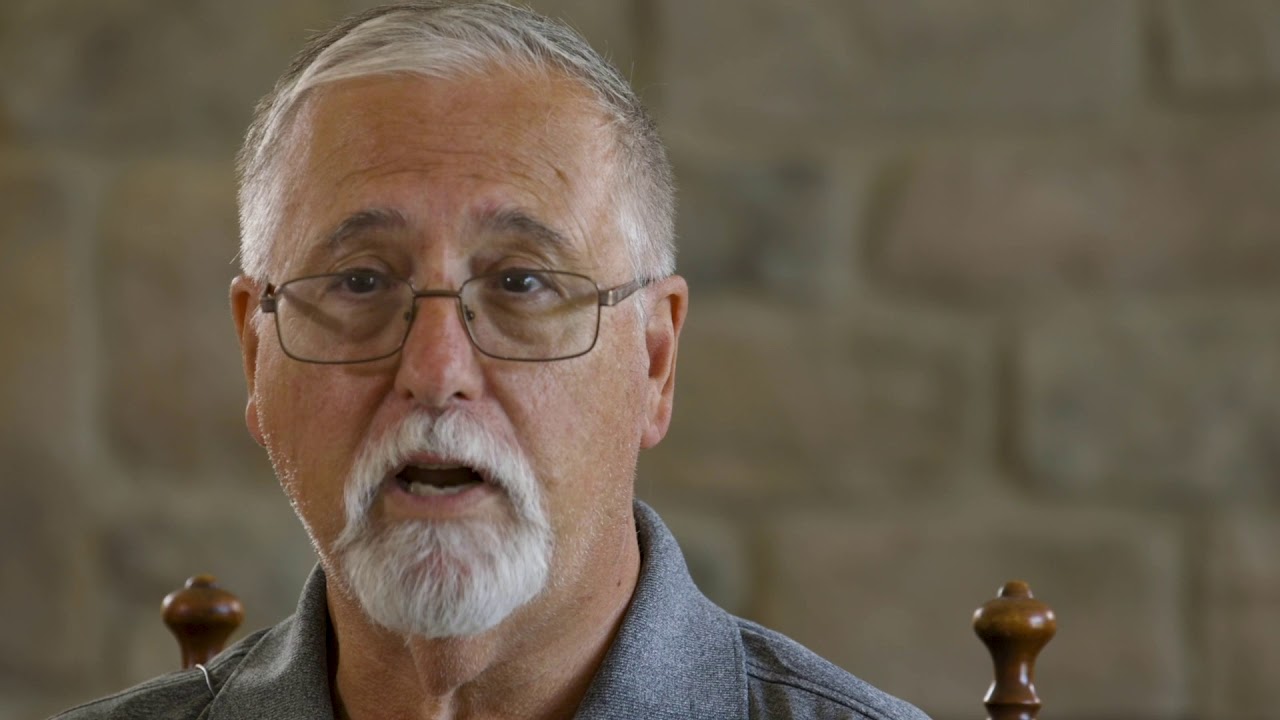 Bruce Van Ness
Play the accessible version of the "Eye on the Prize - Bruce Van Ness' Story" video
Bruce shuffled between care facilities, getting weaker each time until he ended up back at his local hospital where doctors placed him on airway support and a ventilator. The disease paralyzed his arms, legs and the muscles used to breathe. He was unconscious and unable to care for himself.
With no local facilities that could care for him, Bruce's medical team sent him to Penn State Health Milton S. Hershey Medical Center. Two days into an intensive care stay, he regained consciousness. His family and the Penn State team planned his next move. He transferred to Select Specialty Hospital – Harrisburg for its expertise in liberating medically complex patients from ventilators.
Since Bruce couldn't speak, he wrote his top goal in a message to the treatment team: he wanted to attend his son's retirement ceremony on June 7.
The physician-led team of nurses and therapists at SSH-Harrisburg created a plan to put Bruce on track to that goal.
Respiratory therapists worked with him on breathing and chest-strengthening exercises. They trialed calibrated bursts of time off the ventilator, which allowed his lungs to do more of the work. Within two weeks, he was breathing on his own. Bruce felt he finally turned a corner, his breathing was controlled and his remaining symptoms were holding steady.
He began working with physical and occupational therapy to build strength in his legs and arms, which had been stilled for nearly two months. After being immobile for that long, even simple movements -- swinging his legs or lifting small hand weights -- required tremendous energy. That's why the care team encouraged activity. Research shows, that the sooner patients participate in some movement, the sooner their recovery begins. Activity retrains muscles and the cardiovascular system. As patients become active, they stop muscle loss and begin building strength and endurance. Bruce's active participation helped in his recovery and soon he took his next step. He transferred back to Hershey in May for further recovery at the Penn State Health Rehabilitation Hospital, part of Select Medical's continuum of care. The transfer was seamless, Bev said they received much attention and positive communication, allaying her fears of "getting lost in the shuffle."
The team at Penn State Health Rehabilitation built on the gains made at SSH-Harrisburg while Bruce remained steadfast in his goal - attending his son's ceremony. Physical and occupational therapists worked with Bruce on an array of activities, totaling three hours a day.
As they guided him through more rigorous strength-building exercises for his core and other muscles, he became more confident in his movements. He progressed from standing to walking between parallel bars and eventually, a walker.
Bruce left our care on June 5 and two days later attended his son's retirement ceremony in Alexandria, Virginia. It was a testament to the "the most important job I ever had in my life -- being a dad," he said. Bev and sons are confident Bruce will continue to improve; he still works with physical therapists and has already returned to visit and thank his care teams.
"He'll be fine," Bev said.